Layered necklaces represent one of the fashion trends that we love and cherish. From bloggers to celebrities like Miranda Kerr, Jessica Alba, Rihanna and Sarah Jessica Parker, fashion icons have embraced this trend with success. A layering necklace is a DIY statement necklace which allows you to use your imagination and tell a story through your jewelry. You can combine a delicate gold necklace with a strand of pearls or even a sterling silver chain. You can use your fashion sense to create unique jewelry combinations and dazzle everybody with your style. This is why layered necklaces have become such a big hit – they are intimate and unique.
At Ana Luisa NY we believe in empowering you to discover your own style and wear jewelry like nobody else. Here you will find the best fashion jewelry advice and the hottest trends in the fashion world. So before taking a look at our favorite layered necklaces, let's talk about how you can stack your necklaces.
Layered necklaces fashion rules
The first rule of layering necklaces is to tell a story. By that, we mean to carefully curate the pieces so that they form a harmonious ensemble. For example, if you combine a turquoise beaded necklace with a thin chain ending with a shell pendant you will evoke the sea and beautiful beach days. A strand of pearls combined with sterling silver chains and a black thin choker create an impression of boldness and adventure. When choosing the necklaces you want to stack, think about the story you want to tell. Then let the story guide your fashion sense.
The second rule is to always play with lengths. If you are unsure of what to combine, choose a basic choker and a delicate long necklace. The idea is that the necklaces need to have different lengths to create the idea of a wholesome piece of jewelry.
You also need to consider the materials, colors, and shapes. Contrary to a fashion myth, you can combine gold with silver, but make sure the pieces have different lengths. If you have a statement necklace, the other one needs to be a fine delicate piece of jewelry. You don't want to create a fruit salad hanging from your neck. If you want to combine more than two necklaces, keep in mind that, for the nicest effect, the longest piece needs to reach a deep V neckline.
Best celebrity-style layered necklaces
When it comes to trendy jewelry, celebrities know how to wear it and offer inspiration to everybody. Of course, not all celebrities are known as fashion icons and even they can get it wrong. To make things easier for you, our fashion stylists have selected 4 celebrity-inspired layered necklaces ideas guaranteed to enhance your look.
Beads & Metal for a bold statement
Miranda Kerr used a gold statement necklace and double-wrapped diamond strand to conquer our hearts and she succeeded. The two pieces look amazing together and create a precious effect that compliments her look. You can try this combination for a formal gathering or you can use a different beaded necklace for a more informal meeting.
Same metal & different styles
Jessica Alba successfully combined a thin gold necklace with a delicate long gold one and the result is great. The two pieces complement each other and create a stylish ensemble. With these layered necklaces, the trick is that they have to be from the same material. It doesn't matter if you use gold, silver or other metal.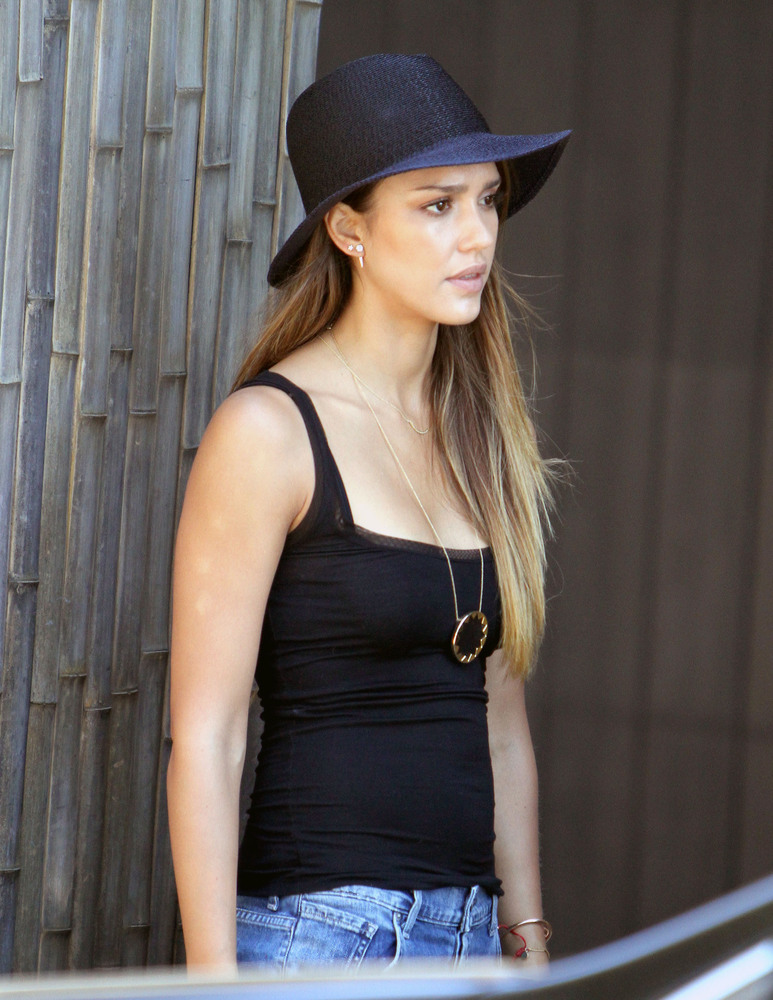 Completely opposite lengths
A great idea is to combine a very long necklace with a choker or a collar. Take Kate Hudson, for example. She used an everyday short and delicate necklace with an extra-long piece and her style is gorgeous. If you want to add a middle-length necklace to this picture, you can. The three jewelry pieces will look great together, especially if you are wearing a dress or a blouse with a deep cleavage.
Delicate all the way
You don't necessarily have to wear one chunky or statement piece with a subtle one. You can do like Alessandra Ambrosio and stack two or three delicate chains with pendants to get a stylish and feminine effect. To get a contrasting look, pair your layering necklaces with jeans and a simple T-shirt.
You can also combine your necklaces based on a common theme (like geometrical pieces) or play with various materials. You just have to let your imagination take the lead and experiment. The rule of thumb is to never forget about the story. Also, pay attention to your outfits and try to wear simple clothes when stacking necklaces just as you do when wearing a statement necklace.
For more fashion inspiration and advice read our other articles as well and share this page with your friends. Check our online store and discover our designer necklaces collections.
Others interesting posts about this topic :